In a constantly changing world, mental health care for children and their families can benefit from some creative reimagining to match. As children, young people, and their families consume more and more media in many different forms – such as films, social media, and podcasts – mental health professionals may be missing out on connecting in a playful and natural way by not exploring how to include media in their sessions.
In recent years, films like Inside Out, Coco, and Soul are providing families with an opportunity to navigate difficult topics ranging from grief to relationships to emotions. Films are a wonderful way to provide a sense of distance to safely give attention to these topics. Families can put the focus on how the animated characters are feeling or how they are behaving, rather than making their own similar feelings and behaviours front and centre. Not only can films provide a distance to relatable topics, they can also support families in exploring other complex psychological matters they aren't directly experiencing.
Media forms like films can also be a way to expand emotional literacy skills for children, young people, and their families. Films may provide both physical representation on screen and/or representation via the personality/inner world of their characters. Both types of representation on screen can support a developing sense of belonging in the world, as well as increasing self-esteem.
Encanto has recently joined the ranks of these films with a new topic to explore: intergenerational trauma. Intergenerational trauma can be understood as a traumatic experience, or series of experiences, that impacts a family – even those who did not directly experience the trauma. Early research looking into intergenerational trauma studies and learned from the experiences of Holocaust survivors, as well as Indigenous populations who are surviving ongoing colonisation around the world. The research explored the ways in which traumas experienced by a grandparent, for example, shows up in the lives of the youngest members within the family.
Encanto provides viewers with a story of the impact of intergenerational trauma with the Madrigal family. The traumatic events that happened to the eldest member of the family are fleeing armed conflict and death. Each character of the younger generations in the film possesses a 'gift' – a physical manifestation – which can be understand as the way the trauma has impacted each individual character who did not experience the traumas directly. These gifts include: perfectionism, unwavering strength, holding family secrets, only showing certain emotions, and son on. The characters learn through the movie how to deconstruct the family narrative that originated from the trauma, including how to be and relate to one another as more than their manifestations of their 'gift'.
There are many ways films like Encanto and the others listed above can be used by mental health professionals who work with children, young people, and families. One way might be include using stuffed animals of the characters or sand tray miniatures of them. The opportunity for a child to hold a plushie Anger from Inside Out in a family therapy sessions, for example, allows them to communicate their experience to both the family and mental health professional in a very clear way. Cinematherapy would be another example of how to include films in mental health care, including watching clips in session to process or assigning a movie to families to watch outside of a session. Directive art exercises that incorporate films might include the following questions: "Can you show me what your gift would be if you were in the Madrigal family from Encanto?" or "What would your Casita look like? What would everyone's rooms be?" (in reference to the magical house in Encanto).
It will likely continue to be a missed opportunity for mental health professionals to not engage playfully and intentionally with the multimedia that children, young people, and their families consume. Not only will interacting with the characters and stories of these films strengthen the therapeutic relationship, it also allows mental health care to meet children, young people, and their families exactly where they are at.
You can read more about Encanto and intergenerational trauma here and here.

Research paper
To learn more about Encanto and intergenerational trauma, you can find the full article here.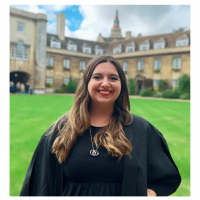 Sydney Conroy
University of Cambridge PhD Student